Print media from years gone by provide a rich history of how backgammon has been played, promoted, and enjoyed over time.
Clicking on the article image will take you either to a searchable PDF file that may be viewed in your web browser or downloaded to your computer or tablet for offline reading, or to the online archive provided by the copyright holder. Most popular magazine issues can also be hunted down on eBay or other online sites.
Las Vegas Backgammon Magazine
Las Vegas Backgammon publication was a deluxe magazine running from approximately 1978 – 1982, published by las Vegas club president michael Maxakuli.  These issues, provided by Candace Mayeron for scanning, offer a trove of backgammon articles, images, and ads that capture the glamor of backgammon during the peak of the game's popularity in the United States, as well as the evolution of tournament practices and game strategy in that period.  The magazine employed an almost comically inconsistent numbering (and titling) system, but was published on a roughly quarterly basis despite purporting to be a bi-monthly. Estimated dates are placed in [brackets]. There are claims of earlier las Vegas newsletter/magazines extant, in a less polished format, but we have yet to see them.
This ambitious but short-lived "national" backgammon magazine was published by Buddy Berke and edited by Sidney Jackson. A paucity of national-brand advertising may have made it difficult to sustain its high production values and cost.
GAMMON (1979, Preview Issue)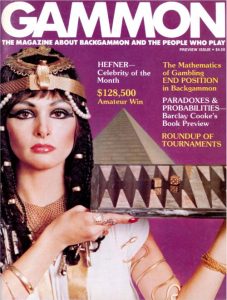 Alfred Sheinwold on Organizing BG; Hugh Hefner Celebrity Profile; American Women BG profile; Cube as a Weapon; Tournament Reports (Acapulco, Pebble Beach, Lucille Ball, Chicago, San Francisco); Club profiles on Pacific Northwest, Turnberry Isle, Mayfair, Cavendish West; "The Man in The Box" Pt.1; PIPS Club; Thorp on Endgames;
GAMMON (1980, Winter)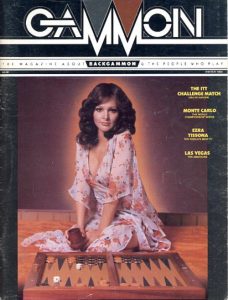 Ezra Tissona Celebrity Feature; Monte Carlo 1979 in detail; Intermediate Cubes; "The Man in the Box" Pt.2; Robertie Analysis of 1979 WC match; Biorhythms; Skill Levels (Horowitz & Roman); Black & White Chicago Classic; 1979 World Amateur Championships; Duo-Gammon; Various Club results.
The PDF files in this section contain brochures / flyers for various backgammon events in the 1970's-80s, loosely grouped into batches according to geography or event. Most were generously provided by avid Los Angeles player Candace Mayeron for scanning.  If you have additional pre-1990 materials you'd be willing to contribute,  please contact us.
Popular Magazine Features
When backgammon is hot, you can bet it will turn up in a variety of popular magazine titles.