This map includes all USBGF Affiliated and Prime Clubs in North America, and various international gathering places gleaned from sources such as the UKBGF website as of January 2020. Click on the slider button in the upper left of the map for an alphabetical listing of clubs.  Select a club name from the sidebar or click on a or map pin for contact information or a link to the club website. For corrections and additions to the map, please contact the NEBC.
International Tournament Calendar
Chicago Point "Mark Your Calendar"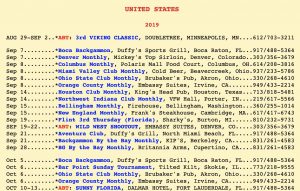 Founded by ABT creator Bill Davis, the Chicago Point website has long maintained a comprehensive list of backgammon tournaments large and small, both within the United States and beyond. The listings link directly to the organizer's website, so this is a one-stop resource for planning your out-of-town backgammon itinerary. The calendar is now kept up-to-date on everyone's behalf by Carol Joy Cole, so thank her when you see her!
Note: this calendar does not include smaller backgammon events and meetups.  See the map at the top of this page for the location of less formal, and more frequent, backgammon activities.
UK Backgammon Calendar (UKBGF)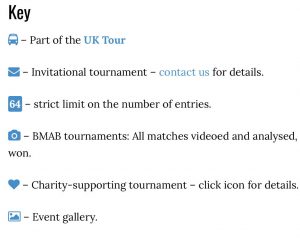 The UKBGF maintains a terrifically detailed listing of local club events and meetups throughout the British Isles and Ireland, along with selected European events of particular interest. If you're planning a trip or a prolonged visit to the UK, this will be an indispensable resource for maintaining your backgammon habit on the other side of the puddle.
National / Global Organizations
American Backgammon Tour (ABT) Standings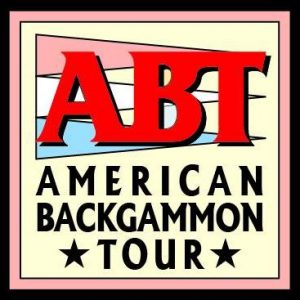 The American Backgammon Tour consists of close to 20 major tournament events across the United States. Begun in 1993 by Bill Davis (Chicago Point), it was patterned after the American Contract Bridge League's points race.  Players earn ABT points by cashing at tour events, with ABT points accumulating over the course of a calendar year to establish that year's Champion. Points also accumulate over an entire career, and all standings can be viewed on the USBGF website (The USBGF purchased the ABT Tour in 2017).  The complete ABT History may still be viewed on the Chicago Point site . . . where you will discover that the very first ABT Champion was our own Marty Storer! NEBC's ABT event, the Boston Open, has been held annually since 2017, directed by our friend Ross Gordon from Connecticut.
US Backgammon Federation (USBGF)
From the USBGF website: "The U.S. Backgammon Federation is a not-for-profit organization devoted to advancing the awareness, participation, education and enjoyment of the skill-based game of backgammon. It seeks growth and opportunities for players at all levels." (USBGF Mission Statement). By maintaining a roster of at least 10 USBGF member designating NEBC as their primary club, we earn "USBGF Prime Club" status. We encourage all our members to join the USBGF, to support the growth of backgammon across the country, and also so you can enjoy the benefits of membership, including the opportunity to play in the popular "Online Circuit" tournaments, and eligibility for USBGF money-added prizes at certain local and ABT events. A Basic membership costs $35 per year, while Youth members enjoy a discount rate of $25.  A Premium membership includes electronic access to the excellent PrimeTime Backgammon quarterly publication and costs $60 per year (or $150 for 3 years).  More committed players may wish to join as a "Founding Sponsor," for which you will be awarded an heirloom Founder's doubling cube.  Click here for a full description of Membership benefits.
Backgammon Masters Awarding Body (BMAB)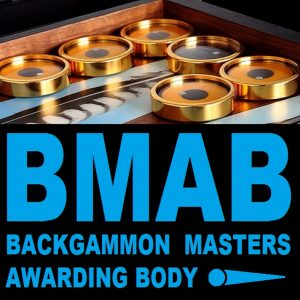 The luck factor in backgammon is so substantial that tournament results, even over the length of a career, won't reliably reward excellence. But now neural net programs have provided  a way to quantitatively asses playing skills based on something more than winning or losing. By transcribing and analyzing matches using eXtreme Gammon (XG), we can arrive at a player's overall Performance Rating (PR) — a function of how much equity a player gives up per move by misplaying checkers or cube decisions. The lower the PR, the stronger the player. BMAB has initiated a formalized program by which players apply ahead of time to have their tournament matches submitted for rating purposes (no cherry-picking!), and earn mastership titles and proficiency certificates based on long-term PR rating.  Of course, the entire project is premised on the view that "playing like XG" is the "best" way to play backgammon, and there are differences of opinion as to whether "playing for PR" is an optimal strategy against human beings. Our own Marty Storer has earned Grandmaster Level 2 status, while two former club champs have earned Master status, Matt Rekalitis (Level 2) and Albert Steg (Level 3).
UK Backgammon Federation (UKBGF)

From the UKBGF website: "In the Summer of 2013 a geographically diverse group of tournament directors and players got together to discuss how to promote and grow the game of backgammon within the UK.  It was decided that the first objective would be to plan and stage a national tournament – the UK Open – the following year.  The longer term goal was the establishment of The United Kingdom Backgammon Federation (UKBGF) – a national democratic body to help organise and increase opportunities for all those who enjoy playing backgammon, at all levels, in the UK."
World Backgammon Federation (WBGF)

The WBGF has taken on an ambitious goal to "Develop, improve, expand and promote backgammon as a mind sport according to principles of Olympic and sports rules.  it seeks to be an association of national associations, so membership is not available on an individual basis, but is rather a matter of national backgammon federations or associations joining on behalf of their countries. A list of Member Nations names 17 federations (as of January 2020), mostly in Europe, while the USBGF and Japan are listed as Partner Federations.