There are currently several terrific places to play backgammon online. Each site has its own personality, offering different features, interfaces, and ratings systems — and drawing a somewhat different community of players.  They also afford you an opportunity to observe matches between skilled opponents.  Here are a few of the more popular ones. You can visit the site by clicking on the screen image!
Backgammon Galaxy

This new site, circa 2019 is a popular new online venue with an unusual approach to rating players: you only earn a ratings boost when you win the match and outplay your opponent as evaluated via XG's 3-ply analysis. So when the match is over, the drama continues, as you wait for a short time to see who won the skill test!
The site is simply designed, with one of the cleanest interfaces out there, and is great for either casual or serious play. All matches are played "on the clock" so the usual online annoyances over slow play are largely eradicated.  If you've never played matches with a clock, this is a great way to get used to it — perhaps starting off with the 'Casual' setting and then ramping up to 'Normal' or even 'Speed' when you're ready.
Registering is super easy.  Then just go to the Game lobby, and offer to join an available game — or offer one of your own.
Backgammon Studio Heroes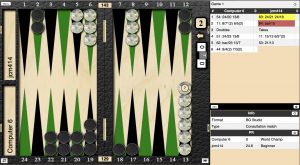 An interesting mode of play emerged as the popular favorite on BG Studio: the "Consultation Match." In it, your plays are evaluated in real time via a GNU back-end robot and immediately flagged green/yellow/red when incorrect, according to the size of the error, and your cumulative match PR is displayed.  While you may find this irksome at first, the effect of this constant "consulting" is that you begin to take as much interest in your error-performance as you do in actually winning or losing the match. And that's good for your game.
Terje Pedersen's "Heroes" playing site used to be part of Backgammon Studio, and the connection between the two can be a little puzzling. See the Backgammon Studio entry on our the "Websites" Resource page for a description of some of the incredible learning tools available here.
First Internet Backgammon Server (FIBS)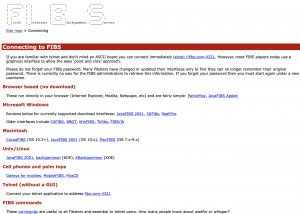 Players of a certain age recall fondly the wonder that emerged in 1992 when FIBS came online, allowing players at terminal screens all around the world to play backgammon at any hour of the day or night.  Popular web browsers like Mosaic had not yet appeared, so all the action was depicted as a pattern of ASCI symbols: X's and O's for checkers cleverly patterned on a board made up of /'s and |'s and \'s.  There was a menu of speaking commands you could use (shout, whisper, kibitz . . . ) to have your messages appear on selected participants screens.
FIBS has grown with the times, and you can still access it in the old style with a telnet screen — but you can also select a "front end" program to provide a more inviting "graphical interface" to the site and join a BG community that's been going at it for more than a quarter of a century!
GridGammon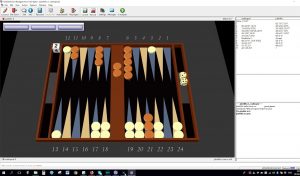 GridGammon began life in 1996 as GamesGrid, and after a long evolution of identity, emerged as the favored site for the USBGF Online Circuit matches, as well as for many other international online competitions.
To play on GridGammon you need an invitation from someone who is already a member, but you can request a Gridgammon account via this USBGF  submission form.
When you get your account set up, you'll go to the GamesGrid site and download the client software (Mac or PC) to your desktop computer. Fire it up, log in, and you're off to the races.  Unfortunately, however, the Mac client lacks many features, including the ability to change the appearance and size of your board, or to edit your personal info and Preferences. Worse yet, the Mac software will not run on any Apple computer running an Operating system newer than Mojave (10.14), and it is not known whether an update is underway.
The NEBC does not recommend playing backgammon for money over the internet. While it is very unlikely that the game will be "rigged" in any way, it is always possible that an opponent may be consulting sophisticated backgammon analysis software unbeknownst to you, making them virtually impossible to beat in the long run.