There's a lot of great material out on the internet to feed your backgammon habit. Here's a selection of websites that should be useful for anyone interested in improving their game or getting involved in a wider range of backgammon activities.  Clicking on a listing's image will take you to that site.
International Tournament Calendar
Chicago Point "Mark Your Calendar"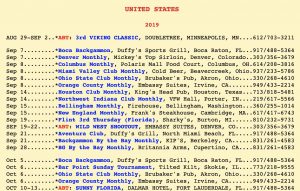 Founded by ABT creator Bill Davis, the Chicago Point website has long maintained a comprehensive list of backgammon tournaments large and small, both within the United States and beyond. The listings link directly to the organizer's website, so this is a one-stop resource for planning your out-of-town backgammon itinerary. The calendar is now kept up-to-date on everyone's behalf by Carol Joy Cole, so thank her when you see her!
National / Global Organizations
US Backgammon Federation (USBGF)

"The U.S. Backgammon Federation is a not-for-profit organization devoted to advancing the awareness, participation, education and enjoyment of the skill-based game of backgammon. It seeks growth and opportunities for players at all levels." (USBGF Mission Statement). By maintaining a roster of at least 10 USBGF member designating NEBC as their primary club, we earn "USBGF Prime Club" status. We encourage all our members to join the USBGF, to support the growth of backgammon across the country, and also so you can enjoy the benefits of membership, including the opportunity to play in the popular "Online Circuit" tournaments, and eligibility for USBGF money-added prizes at certain local and ABT events. A Basic membership costs $35 per year, while Youth members enjoy a discount rate of $25.  A Premium membership includes electronic access to the excellent PrimeTime Backgammon quarterly publication and costs $60 per year (or $150 for 3 years).  More committed players may wish to join as a "Founding Sponsor," for which you will be awarded an heirloom Founder's doubling cube.  Click here for a full description of Membership benefits.
American Backgammon Tour (ABT)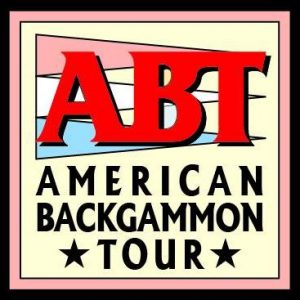 The American Backgammon Tour consists of close to 20 major tournament events across the United States. Begun in 1993 by Bill Davis (Chicago Point), it was patterned after the American Contract Bridge League's points race.  Players earn ABT points by cashing at tour events, with ABT points accumulating over the course of a calendar year to establish that year's Champion. Points also accumulate over an entire career, and all standings can be viewed on the USBGF website (The USBGF purchased the ABT Tour in 2017).  The complete ABT History may still be viewed on the Chicago Point site . . . where you will discover that the very first ABT Champion was our own Marty Storer! NEBC's ABT event, the Boston Open, has been held annually since 2017, directed by our friend Ross Gordon from Connecticut.
Backgammon Masters Awarding Body (BMAB)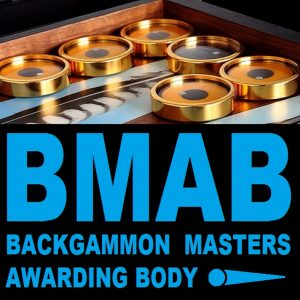 The luck factor in backgammon is so substantial that tournament results, even over the length of a career, won't reliably reward excellence. But now neural net programs have provided  a way to quantitatively asses playing skills based on something more than winning or losing. By transcribing and analyzing matches using eXtreme Gammon (XG), we can arrive at a player's overall Performance Rating (PR) — a function of how much equity a player gives up per move by misplaying checkers or cube decisions. The lower the PR, the stronger the player. BMAB has initiated a formalized program by which players apply ahead of time to have their tournament matches submitted for rating purposes (no cherry-picking!), and earn mastership titles and proficiency certificates based on long-term PR rating.  Of course, the entire project is premised on the view that "playing like XG" is the "best" way to play backgammon, and there are differences of opinion as to whether "playing for PR" is an optimal strategy against human beings. Our own Marty Storer has earned Grandmaster Level 2 status, while two former club champs have earned Master status, Matt Rekalitis (Level 2) and Albert Steg (Level 3).
Backgammon Galore!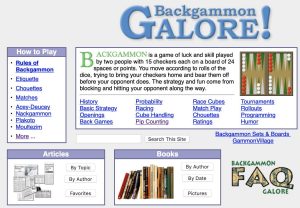 Anytime you perform a google search on some backgammon topic or question, you're likely to wind up at Tom Keith's incredibly packed website. Want to see a list of all the Monte Carlo Champions and Runners-up? Galore! Lessons (over a dozen of them) on the various methods of counting pips? Galore! Quizzes?  Annotated games? Rules and Variations? Galore! One of the most generous and significant things Tom has done, though, is that he mined thousands of 1990's posts to the USENET backgammon forum rec.games.backgammon for the most useful, substantial, interesting posts on a variety of topics and archived them under topical headings for easy access. While Galore's web design is very 1998, and you're never sure exactly where you are at any given moment with regard to the rest of the site,  it's lots of fun and super instructive to explore. (The Home Page pictured is actually not the best place to start for browsing articles on playing topics: this is.)
Bill Robertie's Blog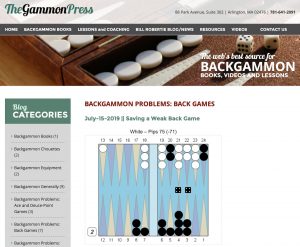 Bill Robertie's backgammon blog is a great way to keep your mind engaged with backgammon on an ongoing basis between NEBC tournaments. Bill posts a couple times month on anything backgammon: an interesting doubling position; newly available backgammon equipment; chouette rules; tournament tips. Once you're there, you won't be able to resist clicking into the various blog-post categories at left. And it must be said: very, very few backgammon sites are this nicely designed: it's a pleasure to spend time here.
Backgammon Studio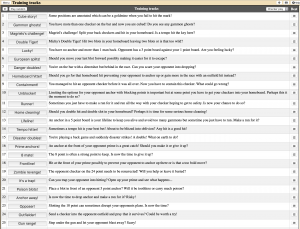 Backgammon Studio is included among the "Play Online" sites, but it's as a personal training ground that it really shines, offering tools available nowhere else. Firstly, Terje has made it a mission to get XG transcription files of every match streamed from major tournaments around the world, and he welcomes submissions from individuals who record their own matches at such events.  As a result he has many thousands of matches in  the site database. Based on these files,  you can view lists of players ranked by average PR, which is interesting.  But not only can you then review any of these matches play-by-play . . . you can play from the perspective of either player and treat the entire match as a quiz, seeing you your own decisions would stack up  in terms of cumulative PR rating! -And of course that means you can also re-play any of your own matches as your older, wiser self and see whether you've actually improved.
You can also set up your own match database, uploading match files from other sites like Backgammon Galaxy or the BG Studio playing room  . . . and BG Studio will analyze them and allow you to quiz yourself on your errors, automatically grouped by theme!  Or you can simply quiz yourself on dozens of thematic "Training Tracks" like "Homeboard Hitter!" and "Too Good?" that pull thematic positions from the millions in his enormous match database.
These are a few reasons why Terje Pedersen calls his site "The Swiss Army Knife of Backgammon." While the site can be a little bewildering to navigate, part of the reason is that there are so dang many fantastic resources there. It's well worth the effort to make this your backgammon gym.
GammonVillage Magazine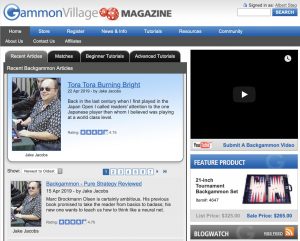 While there's a good deal of free backgammon tutelage to be found on the internet, Backgammon Village Magazine offers an incredible value for the serious student of backgammon. The $125 "Lifetime Subscription" option will give you access to more high-quality backgammon instruction than you could reasonably get through in 5 years of intense weekly study, even if they weren't continuing to add material. Consider that by joining you'll get access to the entire run of 59 articles that were edited into Walter Trice's Backgammon Boot Camp (a $40 value alone).  By subscribing, you'll get full access to similar series of articles by a terrific stable of top thinkers in backgammon. How about "The Master Plan" by Bill Robertie (22 articles); "Sticks and Stones" by Stick (60 articles); "Advanced Angles" by Steve Sax (125 articles) or "On The Road with Jake" by Jake Jacobs (179 articles!?!).  You can pick and choose the columnists you find most compelling and enjoy a range of material focused on checker play, cube play, match-score strategy, etiquette, psychology, backgammon travelogue reporting . . . and that's just the articles!  There are also "Tutorials" by Phil Simborg, "Quizzes" by Gregg Cattanach, annotated Match Transcriptions, Interviews with established and rising stars . . . it goes on and on.  If you aren't sold, you can get a 3-month subscription for just $30 and see for yourself.
USBGF Teaching Videos
The USBGF site has a library of over 200 backgammon videos, many of them produced by popular backgammon teacher and promoter Phil Simborg. The videos can be found under the "BG Problems" menu on the left of the second menu bar. (There are also some further lecture videos under the "Learn" menu). There doesn't appear to be any index or guide to the videos, but if you just
browse through the page you'll find plenty of interesting topics to learn about.
Online & Print Publications
Bill Robertie's Newsletter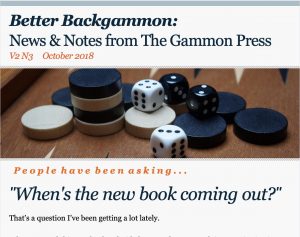 Some newsletters come too often. They're padded out with boilerplate material and aren't particularly newsy — because they come out on a regular schedule whether there's news or not.   Bill Robertie avoids that by only sending out a newsletter when he's actually got news: a review of a compelling new book; a remembrance of a backgammon giant who's passed; the discovery of an obscure 1975 Paul Magriel interview.  Consulting Robertie's newsletter page we see only five missives from calendar year 2018.  Subscribing to this newsletter is a no-brainer for anyone engaged with the world of competitive backgammon. It's free, and it's fascinating.
PrimeTime Backgammon (USBGF)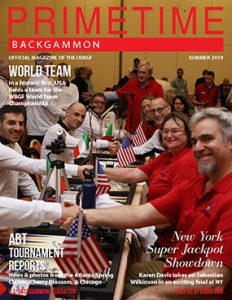 PrimeTime Backgammon is a slickly-produced quarterly publication so full of interest you'll have a hard time digesting it in the 3 months before the next one arrives.  A typical issue will contain an article or two on some aspect of backgammon play, a trenchant commentary on a transcribed match, interviews with prominent players or influential organizers, reviews of faraway  tournaments you might think about attending, loads of tournament results . . . and lots of full-color photographs. Electronic access to the entire PrimeTime archive (going back to 2010) is included with a 'Premium' USBGF membership ($60 annual, $150 for 3 years) — download the full run onto your tablet reader and you'll never be bored on an airplane again.
2+2 Backgammon Forum (Bill Robertie)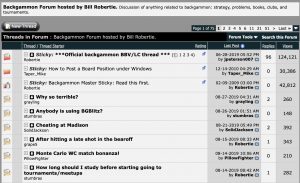 The 2+2 website is mostly devoted to poker, but they host other topics for conversation and Bill Robertie moderates a very hospitable backgammon forum there.  Perhaps because this forum is not populated by a lot of snarky backgammon know-it-alls, and because Bill Robertie fosters a calmly intelligent level of discourse, the tone of discussion here is very friendly and welcoming to newer players.  What's more, you're likely to get a pithy reply to your inquiry from Robertie himself, and that's a sweet deal.
BG Online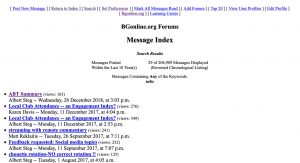 Jacob "Stick" Rice's BG Online forum has been the center of online backgammon discussion in the 2000's.   Here you'll find in-depth theoretical discussions, personal accounts of tournament experiences, quirky checker-play scenarios, arguments over the meaning and value of error ratings, and endless debates over "official" organizational policies promoted by the USBGF and backgammon federations abroad. If you post a genuine backgammon question, there's a good chance you'll get replies from published backgammon writers and other wizards of the game. The fully searchable archive of past posts, by author or keywords, is a precious resource for backgammon competitors and historians alike.
The site has suffered some technical difficulties in 2019.  If you are having difficulty accessing the forum, you might try a variety of browsers to see which will work best on your machine. (Firefox on a Mac seems to work okay . . . )
rec.games.backgammon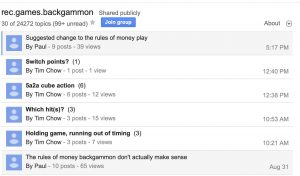 'RGB' was a thriving USENET backgammon forum in the 1990's and is still up and running with a nice graphical interface. The number of participants active there has dwindled considerably over time, but it's still a good place to talk backgammon. Moreover, the forum history is still searchable, so you can often find a lot of answers without having to post a question yourself.