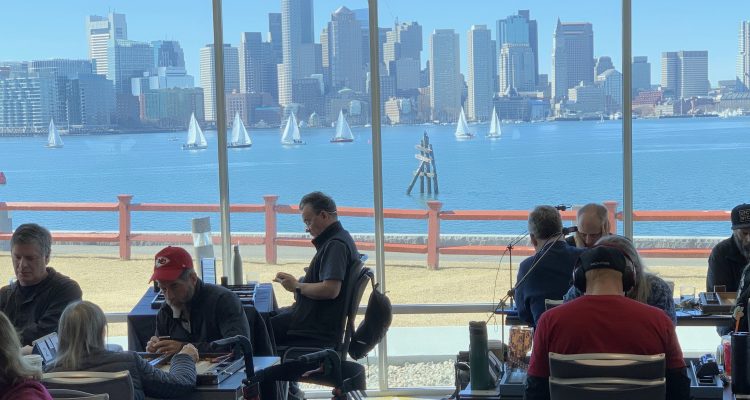 It's been said that Boston's a town where it's hard to find a soft chouette, and it turns out the Boston ABT is no soft touch for out-of-towners looking to export local coin either. Three of four semi-finalists were NEBC regulars, with Ray Fogerlund the lone interloper. Club member Frank DiMaggio was the other semi-finalist — and he also took home second prize in the Pre-Tourney. The finals could have been an NEBC monthly pair-up, as Stephen Hassman squared off against Dougie Roberts, with the latter carrying the day. Dougie was also the Champion in 2018, when he defeated Jack Edelson in the final. In a strange pattern of events, Dougie has alternated Boston Open wins with Frank Raposa, who won in 2017 and 2019. Go figure!
Local heroes also fared well in the other high-end contests. NEBC Club Champion Marty Storer made it to the finals of the Herb Gurland Memorial Masters, falling to the strong Canadian competitor Michael Neagu. And local hero Bill Robertie prevailed in the high-rolling Super jackpot, defeating Ray Fogerland and Allen Tish in grueling 21-point matches on his way to that prize.
In the Advanced Division, NEBC stalwarts Bill Barrows and Stephen Douglas cashed, winning the Consolation and the Last Chance, respectively.
And current NEBC Open points-race leader Albert Steg totally dominated the 8-player 'Quicky' field, bringing home the gold after winning a trio of 2-point contests.